In 2 minutes learn how to make Dragonskin!
Beginner
Craft Time: 20 minutes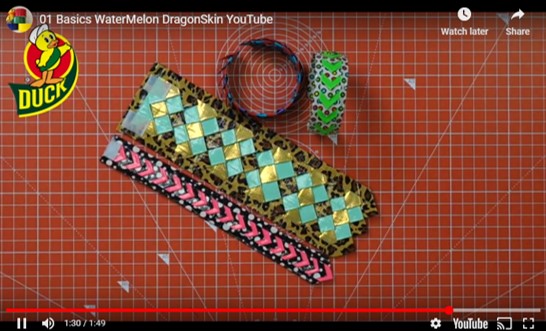 How to make a Duck Tape® Dragonskin!
This is the second in our series of "bite sized Duck videos" which will illustrate just how easy it is to craft with Duck Tape® Colours.
Just take 2 minutes to see how easy this really is to achieve!
Remember the colours used are just for illustrative purposes – why not add your own very special touch of glitter or a pattern of your choice?
We are confident that if you have tried the to make your first flower, you will want to progress onto this new activity. You might even be inspired to create a whole bunch and give them away as presents and gifts.
We really hope by viewing and enjoying our "bite sized Duck video", you might try to make many other things with Coloured Duck Tape®. Go on have a go!